Snug-Rug Microfibre Towels
SNUG-RUG MICROFIBRE TOWELS | COMPACT, LIGHTWEIGHT & SUPER ABSORBENT!
The Snug-Rug Microfibre Towel is a perfect combination of comfort, usability, and practicality. Perfect for use at the gym, fitness studios, swimming pools, sports, traveling, camping, hiking, the beach, yoga, and pilates, etc.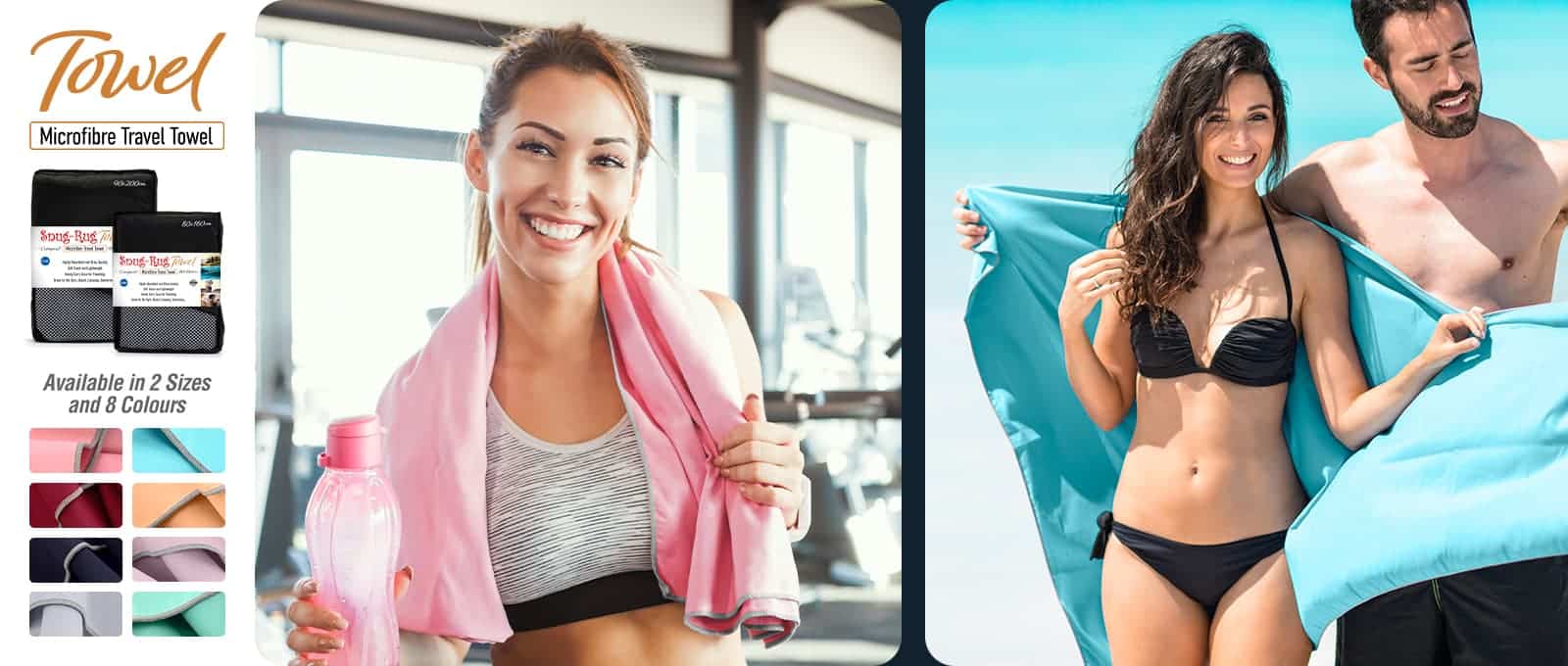 Main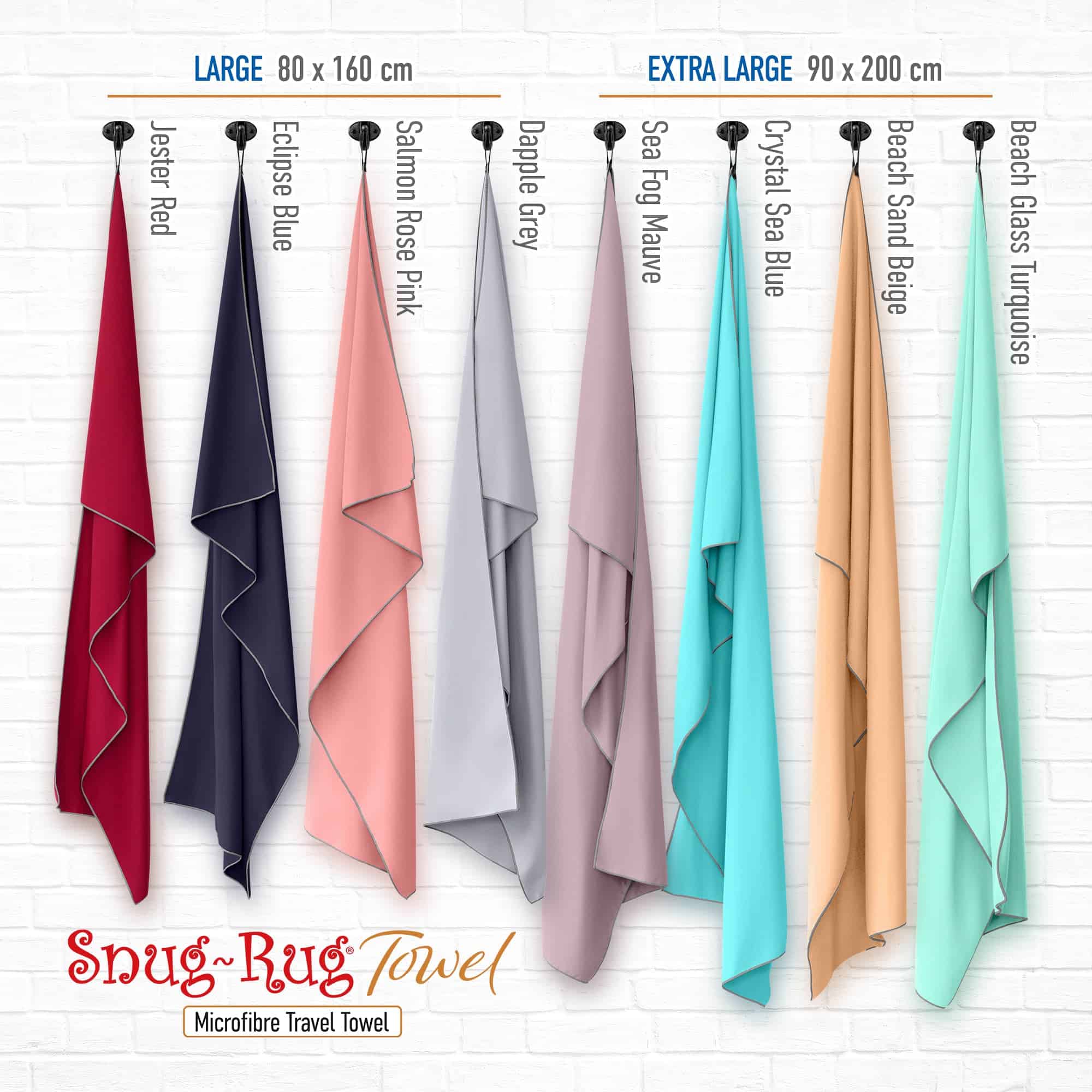 Main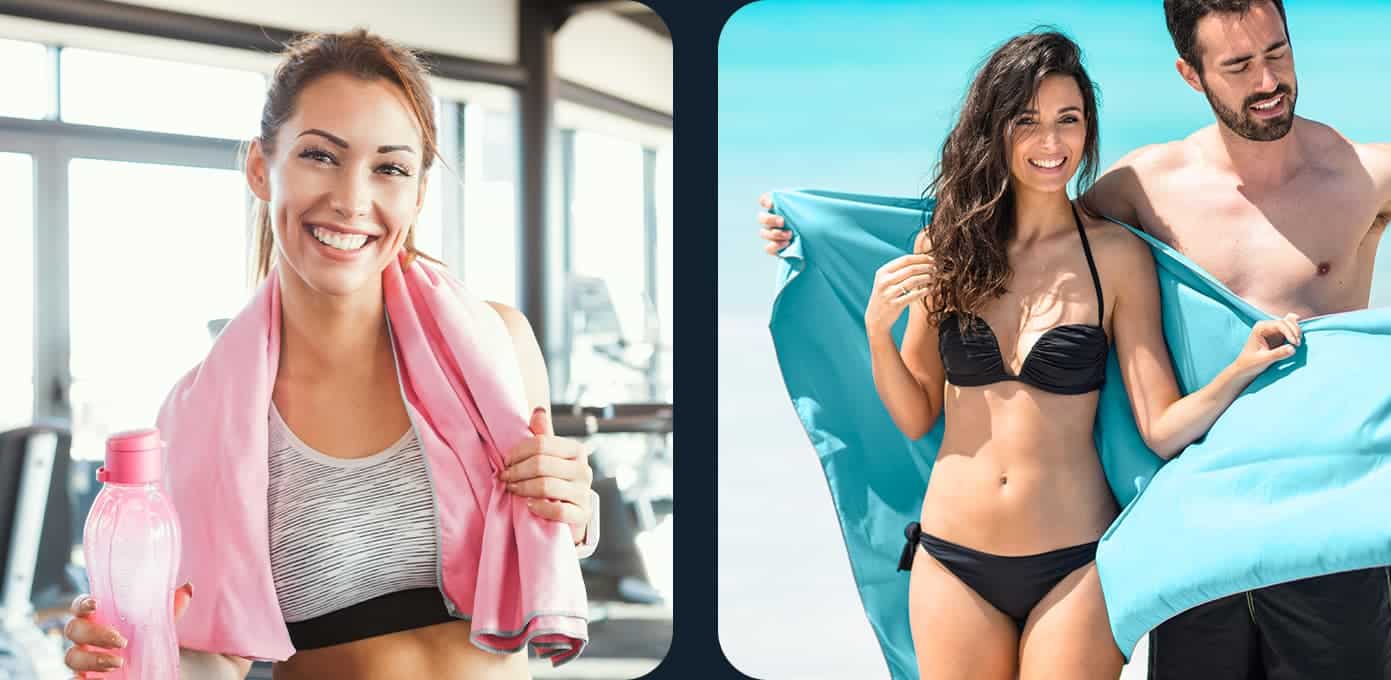 Main
WHAT IS MICROFIBRE?
Microfibre refers to a synthetic fibre that is extremely thin, even slimmer than a strand of silk (which is about a fifth of the diameter of a human hair). This material has several qualities which make it the number one choice for our travel towels: it's tough, soft, super-absorbent, quick-dry, and light-weight.
WHY USE A MICROFIBRE TOWEL?
Highly absorbent Microfibres have high density and large surface area, allowing them to absorb up to 5 times their weight in water. This makes it an ideal choice for use at the gym, the beach, and swimming.
QUICK–DRY
Dries around 4 times faster than a regular cotton towel. If you don't want to carry around a soggy wet towel after a swim, our microfibre travel towel will dry you quickly and won't weigh your bag down.
ANTI-BACTERIAL / HYGIENIC
Microfibres catch pathogens and bacteria reducing the risk of illness and germs being spread around. These properties also prevent odour build-ups on the towel, which means less washing!
LONGEVITY
Microfibre is extremely durable, with thousands of 'loops' per square inch of material, making it strong and long-lasting.
LIGHTWEIGHT
Weighing only 275g makes our towel pack perfect for sports and travel.
EASY CLEAN
Unlike most cotton towels that degrade and wither with regular use, microfibres can be cleaned easily on a quick wash in the washing machine.
SAND PROOF / BEACH TOWEL
Sand won't cling on to our towel as with normal cotton beach towels, it is also large enough to use as a family beach towel.
COMPACT / EASY TO CARRY AROUND
Due to the material that the towels are made from, you can easily fold or squash them into a compact size, making carrying much easier. The included carry case is hard-wearing and perfect for holding your towel when not in use wet or dry!
Includes a handy carry case for Traveling with a popper opening.
Compact, lightweight and super absorbent.
Grey high-density cover stitch.
Snug-Rug logo/washing instruction label loop with popper for hanging.
LARGE SIZE
Measures: 80 x 160cm (31.5" x 63").
EXTRA LARGE SIZE
Measures: 90 x 200cm (35.5" x 79").
AVAILABLE IN 8 COLOURS
80% Polyester / 20% Polyamide.
Material Weight: 220gsm.